Manual
Follow all the download instructions below.
Enter the ip adress of the robot in "IP 1"
Choose "robot 1" in field "robot"
Click on "Dis-/Connect" => "Connected: no" should change to "Connected: Yes". If it does not work, try to restart the raspberry and check the IP adress and check if you are able to communicate with the Raspberry via remote desktop (see calibration manual in section "manuals")
Click on "calibrate robot" and go on with the manual "robot calibration" in section "manuals" for details.
Click on "Move & All Servos on". This will switch all servos on. Your robot should move in its basis position, if you calibrated it before. If you did not calibrate it, it can move to any position. Click on "All Servos off" in order to prevent breaking of the robot.
Use the sliders to move servos of the robot. Use "next normal speed" in order to go the the next step of the movement you want to create or to create a next step. Use the sliders again to set a new position of the robot. Use "Move all" to make the robot perform all steps of your program.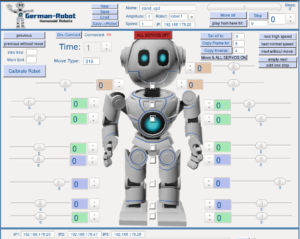 Donwload
Download and install the free version of Livecode at http://livecode.com/
Download the PC SW by klicking here: 20160620 movement programming.livecode
Open livecode and then open the file above in livecode.

If you have no "Tool" panel in livecode, press "strg+t"
Click on the left top arrow to start the PC SW:

Download the basis robot folder and extract it to the desktop (it has to be a folder named "robot" on the dektop, as the SW expects it there): robot