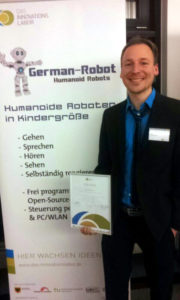 I'm very interested in new technical items, especially in humanoid robots. Besides that, I like virtual reality, wearables and all fascinating stuff like new electro planes and rockets and so on. I like programming and creating new items like the robot myself.
I started the robot development 2 years ago and 9 months ago I foundet "German-Robot UG", a business developing the humanoid robot and consulting in project management. For several reasons I will close it down soon and go to Vancouver, Canada for four months. I decided to make the robot available here as open source project. I'm still interested in building a start up, maybe in a team with 1 or 2 other people.
I like a lot to work with people, in my former job as project manager I spend about 60-70% of the time in meetings and phone conversations. During my social service, I worked in a "Kindergarten" and it was a lot of fun. Later I volunteered as a maths teacher for 2 years at a school in my home town once a week.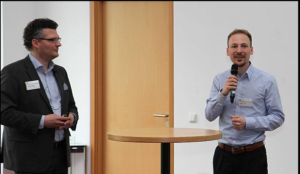 Interests
Kitesurfing
Snowboarding
Paragliding (parasailing)
Meeting friends and going out together
Virtual Reality and Robots and Programming
Start an own business
SpaceX / Elon Musk / interesting biographies
Music, Movies, and Books
Conversations with god
Coach yourself to success
Game of Thrones
The Secret
Things I liked
Visiting: Cape of Good Hope / Africa
Visiting: Cliffs of Moher / Ireland
Bungy jumping
Skydiving
Professional Experience
2000 University entrance diploma in Remscheid Lennep
2001 Child Care & Youth Work on an german island for 1 year during social service
2006 Physics Major, Diplom-Physicist, University of Münster
2006 – 2015 PM & Electronics Developer & System Engineer for sensor development, Hella KGaA Lippstadt
2016 Founder of "German-Robot UG", development of the robot and consulting in project management